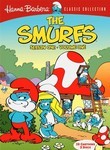 I'm returning The Smurfs Season 1: Volume 1 to Netflix today... I love the Smurfs! This is the first time I've watched them since waaaay back when they were on TV on Saturday mornings! (Remember SmurfBerry Crunch?) 
I watched only three of the six episodes, or, actually, mini-sodes. I thought, should I watch them all? I want to, but on the other hand, if there are only six on this DVD and six on the next (and last) DVD of the season... I want to save some for later. On the other hand, if the world ends tomorrow, I want to have seen all the Smurf episodes I can. At the same time, if it really is the end of the world, hopefully I am going to heaven, and I believe in my heart that there are real Smurfs in heaven. You can play with them, and if you want, live with them in their little Smurf village.
So it was a classic instance of the epic struggle (well, not epic, but let's say epic, because it sounds cooler): Carpé Smurf vs. Carpe-how-many-DVDs-are-they-going-to-release-and-I-don't-want-to-use-them-up-all-at-once.
Netflix has Smurfs Season 1, a two-DVD season; The Smurfs: True Blue Friends, which is a collection of episodes from Season 2; and 
The Smurfs and the Magic Flute
, which is, I'm just going to tell you right now, not that great of a movie. It's one of the ones where they bring in humans or human-type creatures, and that takes the focus away from the Smurfs. Who wants that? Nobody.
I do love Smurfs and am happy to trade items in my online shops (handmade as well as supplies/ephemera) for Smurf-related items. I am especially interested in foreign (to me, non.-U.S.) items, such as Pitufos (Spanish), Puffos, etc. If you have an offer, please just leave me a comment below or contact me through my 
CreativeSundries Etsy shop
or 
CuriousSundries
 or (preferred) 
ArtFire
. 
For example, I can trade for some of these 
cool bottles
 in exchange for Smurf goods (I'm no longer selling them, but trades are fine).